Network Effects:
Takeaways from the 2021 Organic Growth Summit
The value of a network is strengthened as the number of participants increases. As Volaris Group continues to grow through acquisition, the Volaris network becomes more and more valuable to the people and companies within it.
This network effect was on full display last month at the 2021 Organic Growth Summit. Held virtually, this three-day Summit brought together leaders from across Volaris to share best practices for organic growth. The 41 sessions led by internal experts, generated more than 50 hours of content and covered topics like pricing, bringing new products to market, retaining customers, and staffing for growth.
It would be impossible to cover all of the takeaways in this short article but here are a few of our favorites.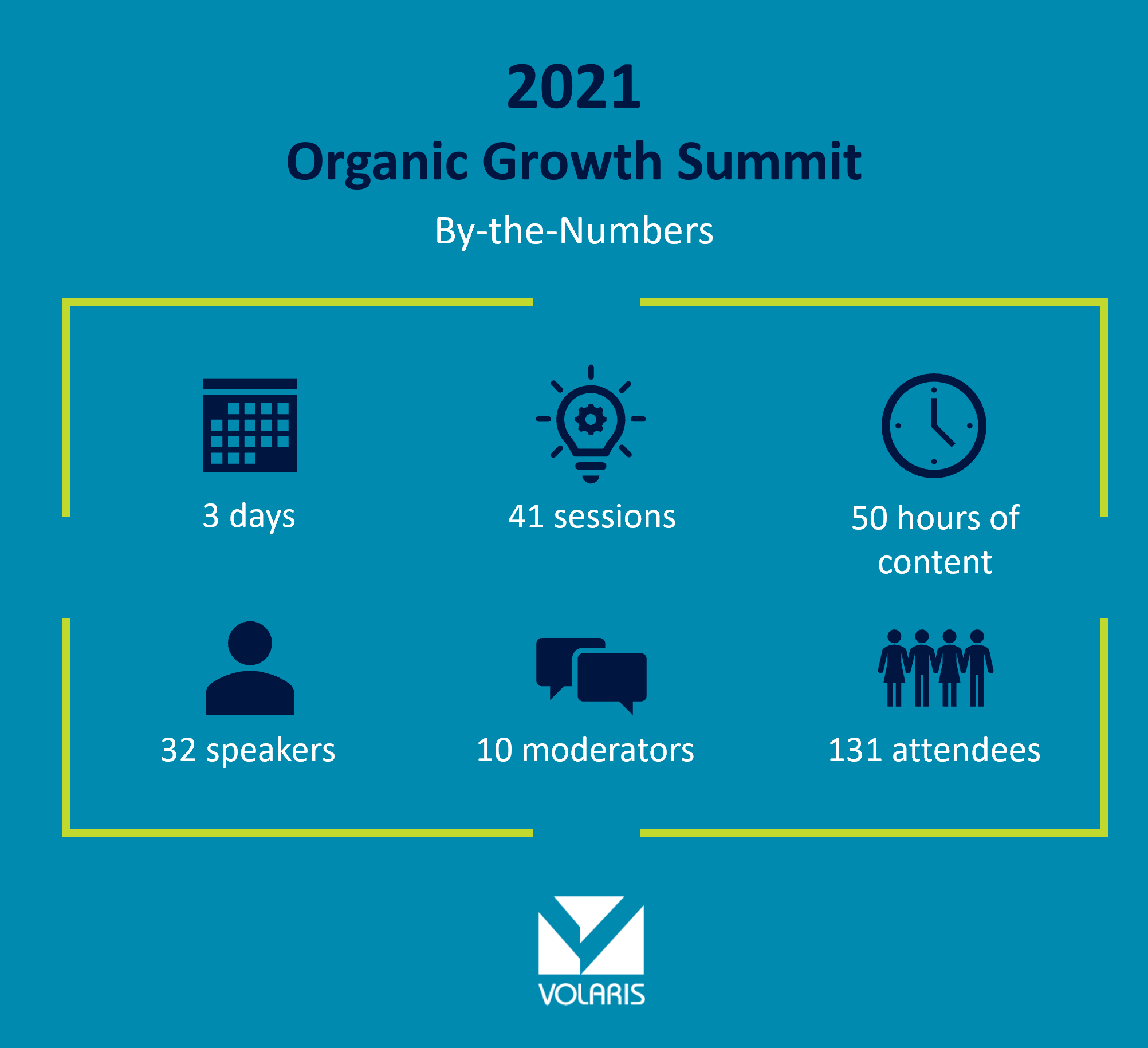 Great ideas generally don't start in boardrooms. They start with your customers.
Prior to the Summit, up-and-coming leaders in our Top Gun talent development program were challenged to uncover ideas for new products. They presented their findings with a focus on where the new ideas came from and how they'd validate the ideas moving forward. Spoiler: it was all about the customer!
When it comes to customer attrition, make sure you understand WHY.
Knowing why your customers have chosen to leave could help you uncover a previously unknown problem with the business, could help drive the future product roadmap, and may prompt changes in customer relationships overall.
If you want to drive innovation, set audacious goals and provide the right environment.
When JFK decided we would "go to the moon in this decade," it was an audacious but inspiring goal. A big goal without the right environment though is unlikely to be achieved. As leaders, we need to support and nurture a culture of ideas and make time for innovation.
Having completed several acquisitions and hired new team members since our last event, for many attendees this was their first Volaris Summit experience. And the word-on-the-street is, it did not disappoint. When asked what they liked most about the event, here's what some first-time attendees had to say:
"Idea sharing and listening to brilliant leaders working through their solutions to issues they have faced."
"For me, as someone who is customer-facing, but development adjacent, I liked the exposure to the full breadth of knowledge and expertise on this very important theme (to include pricing, initiatives, customer focus, etc)."
"The comradery between attendees and feeling a big part of the Volaris family. The talent, skills and knowledge that exuded from presenters and attendees alike was an incredible experience. I felt honoured and proud to be a part of this event."
Perhaps the greatest takeaway of them all was the power of the network!